Classic Holiday Gift Ideas
There is absolutely nothing wrong with falling back on standard, time-tested ideas when choosing presents this year. After all, these became standard for a reason. Giving them a fresh take, however, tells your special someone that you are thinking about them this season. Here are some ideas for your holiday shopping list: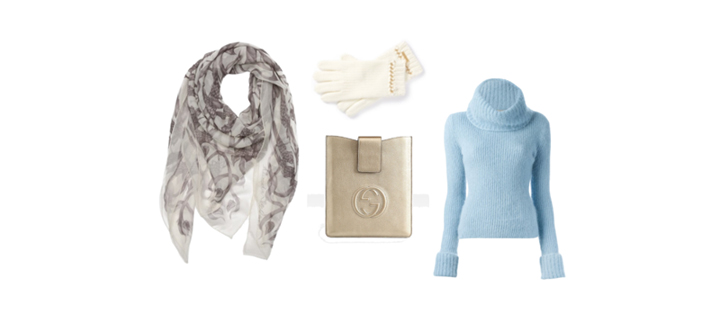 1. A Statement Scarf
Scarves are a great way to add some color to your winter wardrobe. For this reason, one can never have too many and they will absolutely be a welcome gift for Christmas. For the fashionable friend or family member, though, take this gift to a whole new level by giving a trendy statement scarf. For the perfect statement scarf for that special woman, check out Alexander McQueen's silk "
Birds and Thorns
" scarf.
2. Tech Accessories
Tablets, smartphones, and notebook computers are now pretty much part of everyone's daily wardrobes, so why not dress these up as well? Be it the fun and funky
Luna Tarp
Fergus iPad case by Marc Jacobs or the sleek Soho metallic
leather case
by Gucci, accessories for your accessories are always a fun gift to receive.
3. A Classic Planner
Planners are pretty standard gifts for the holiday season. You can make your standard gift shine, though, with designer planners that will make your fashionista friend look forward to next year. Poketo's "
Mon Cahier
" planner is a great gift idea for the forward-looking fashionista.
4. Holiday Sweater
Holiday sweaters are also traditional gifts, but a very welcome one given the winter chill. They are also a staple in any winter wardrobe, so you can't go wrong with the classy,
ribbed turtleneck
by Ermano Scervino or the cozy
patterned sweater
by Ralph Lauren.
5. Gloves or Mittens
A warm pair of gloves is also a thoughtful and classic gift idea. Classic, however, does not mean boring with Michael Kors'
Chain Cuff
gloves or Topshop's polka dot
leather gloves
.
Choosing gifts does not have to be a frustrating experience. Giving your own personal take on the classics is the best way to choose presents with a lot less stress during the holiday rush.