InStyle Makes A Scandal-ous Blunder On Kerry Washington's Cover Photo
InStyle magazine is the latest publication to come under fire. They have broken one of the media's most important rules for image alteration––don't get caught. While significant steps are being taken to present people with images of real women on magazines, InStyle took a step back with the obviously altered image of Kerry Washington on their March cover. Excited about her InStyle feature, the Scandal star took to social media to give her fans a sneak peek. However, fans immediately noticed that her skin––although flawless, as usual––appeared significantly lighter than her real skin tone.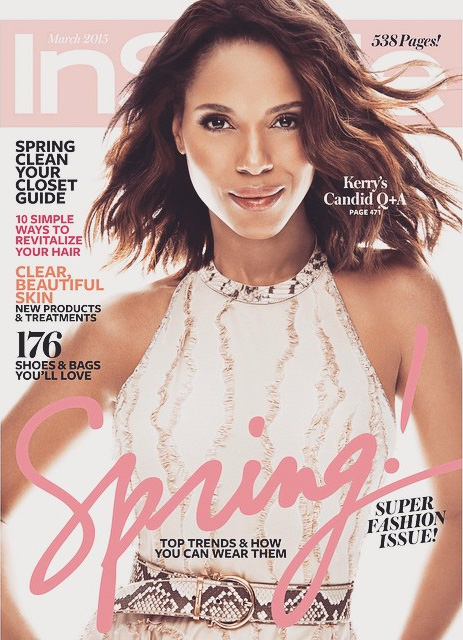 Image courtesy of Kerry Washington via Instagram
Kerry's fans commented on the actress' post, as well as posted complaints to InStyle. The magazine denied altering Kerry's skin color, but considered that the lighting may have contributed to the change. You think so, InStyle? Kerry Washington, on the other hand, gracefully thanked her fans for bringing the issue to light, saying it was an "important [one] to be had"––and she's right. Airbrushing, photoshopping and manipulating images through other means have always been sensitive issues in the fashion and entertainment industries. Many publications have come under fire for rendering stars unrecognizable in their photos. In fact, this is Kerry Washington's second controversial cover appearance. In 2013, fans barely recognized the star when she appeared on
Lucky Magazine
.
With this most recent incident, let's ask the age old question: Isn't it about time we see what these celebrities actually look like? Let's face it, paparazzis have been taking "natural" shots of them for years, so fans do have a rough idea of how they look in real life. Factor in social media, and it's apparent that image "touch-ups" have become a thing of the past. Why pay for a cover where your favorite celeb is barely recognizable when you can go on Instagram and see the real deal?