Jennifer Lawrence Strips Down For Vanity Fair
Remember the iconic 1981 photo of Nastassja Kinski for Vogue? If you haven't been born yet at the time, you probably didn't know that it would later become one of the most coveted posters for 80s teens. It would also inspire other celebrities to get in bed––figuratively, of course––with these not-so-friendly reptiles for photo shoots or performances. Remember Britney Spears with that albino python? Vogue's iconic image was shot by no less than photography legend, Richard Avedon, whose work has "helped define America's image of style, beauty and culture for the last half-century," according to the New York Times. Now, another legend has recreated the image for Vanity Fair. Patrick Demarchelier shot Hollywood's newest "It" girl, Jennifer Lawrence wearing nothing but a red-tailed boa constrictor.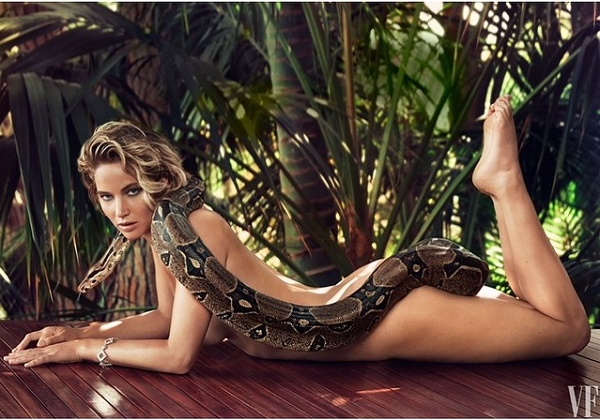 Image courtesy of Rihanna via Instagram
The image was taken in a house in Hollywood Hills, with snake handlers on standby. However, Jennifer's expression on the photo shows that she could probably charm the snake all on her own. The shoot was styled by Vanity Fair's Jessica Diehl, who said that Jennifer had "the perfect combination of strength, sexuality, and humor, and, above all, tomboy to pull this off." I'm sure that comes as no surprise to JLaw fans, who know the actress to be a cool, funny and completely badass. She stayed cool during the shoot, and gave Vanity Fair a beautiful fashion image. I'm sure Nastassja Kinski and the late great Robert Avedon would agree.