From snowy Poland to extremely hot and exotic Cebu
On 24th February 2013 my new adventure started. After a long two-day trip (Berlin-London-Hong Kong-Cebu) I finally arrived in Cebu, Philippines!
I am starting my six month journey for Fashion One TV as a talent for reality TV shows, commercials and photo-shootings as well as taking care of social media.
What I always like to repeat -It's good to connect work with pleasure. That's why I'm here, on an amazing island, surrounded by beaches, palm trees and extremely friendly native people. It's like paradise when it comes to cost of living – everything is really cheap! One word comes to mind - exotic. Having one of my best friends with me (Carla from Spain), is great. We experience the city together and start to be a part of this great community.
Although we have to work, we still have lots of free time to enjoy. It's that kind of place where your mind and body can relax. You have lots of time to think about things you set aside, when living in a big city. And that's what I love about it. Experience the change, feel free and in control of your own life. Sometimes it's so hard to lead 'my' kind of lifestyle (not seeing my family, living out of a suitcase and not being able to have a normal relationship), but then again I think it's the best way. Why am I complaining? Just take your chances and make the most of it while you can?, right?
Therefore, being fully positive and appreciating what has come across my life within last few weeks, I feel like spending my 'Cebu time' as best as I can. Eating as healthy as possible (I won't say 'no' to ice-creams though), working out in the gym, swimming in the pool (it's just outside of my apartment), doing yoga, exploring the city and of course concentrating on my work 200% - is my plan! Fingers crossed. <3
As I just flew all the way from snowy Poland to extremely hot and exotic Cebu, I had to figure out what to wear here, as I wasn't used to these kinds of temperatures anymore. I decided to go for simplicity, which when combined in a good way, can still look good!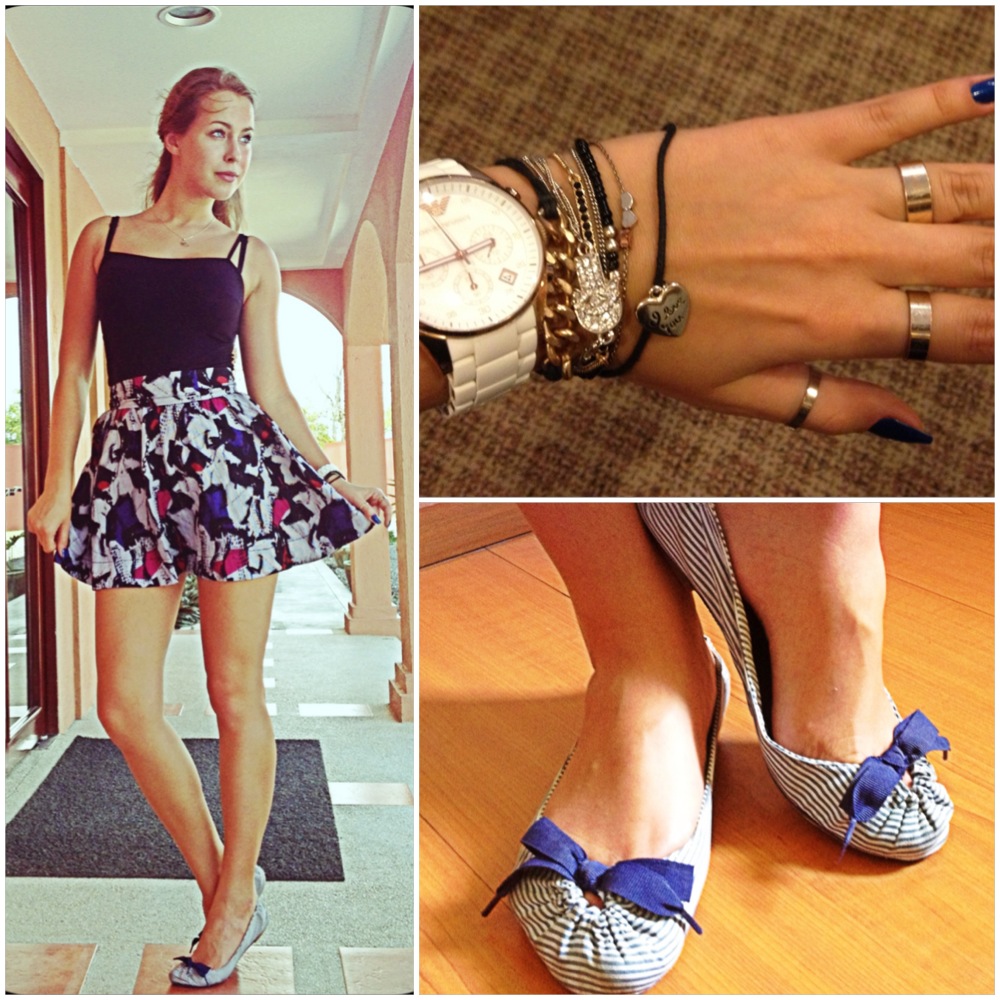 I'm wearing a simple black t-shirt bought in Koton, a colorful girly skirt very tight on the waist and my white-blue ballerinas' shoes (Pull and Bear). The whole outfit is perfect for hot weather and for feeling stylish and comfortable at the same time :) Also.. what I love and what probably most of the girls love: accessories! I'm wearing my favorite white watch from Emporio Armani (sometimes it's better to pay a little bit more and have good quality for a long time), that you can wear all the time - during the day, or even with an evening dress. All the other sparkling bracelets and gold rings make everything look better - if you like jewelry of course, as I do! The other thing, that is a must for me, is a beautiful manicure, which makes hands look esthetic. Dark blue for today :)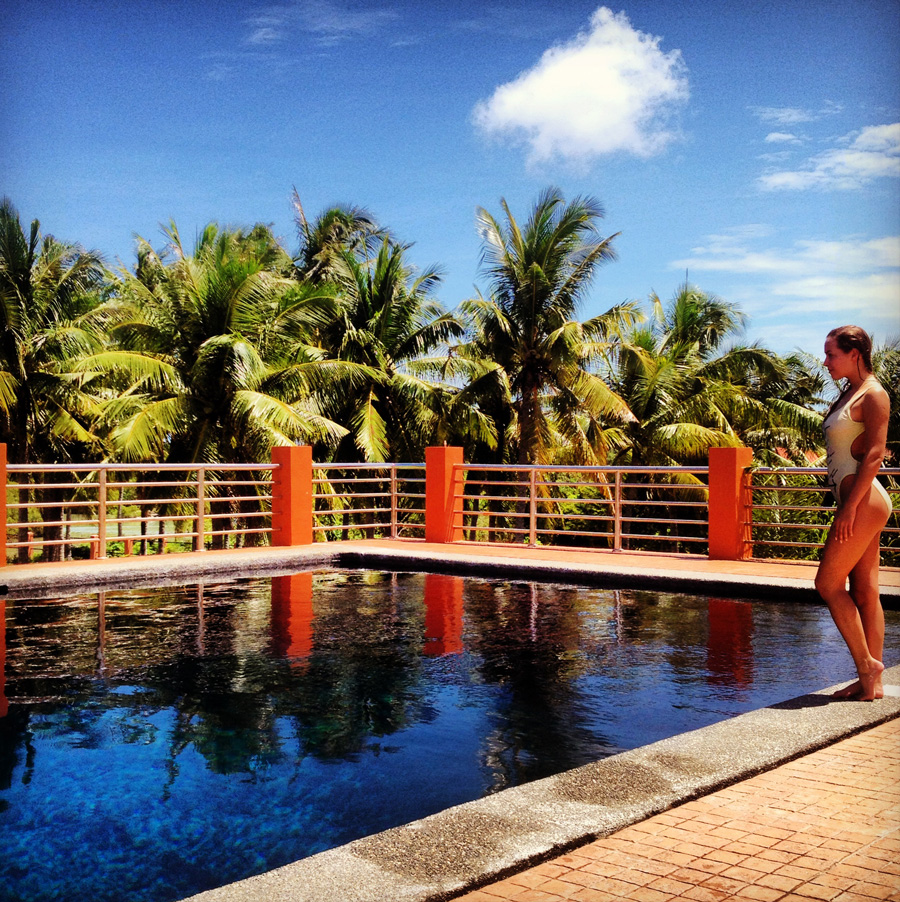 This is one of the first photos I took in Cebu. Because whenever you see a pool just in front of your apartment, you want to jump in straight away! And so I did. wearing my favorite vintage swimsuit (I have lots of them, as I love swimwear) - and what's most interesting about it, I got it from my mom, who was wearing it 25 years ago and it still looks great! Plus the strong yellow color and open back makes it look amazing on tanned skin. Remember - don't be worried about wearing your old clothes or clothes you found in second hand shops - Fashion makes circles and comes back!
"Balance is the key : I need to be successful in my career to feel fulfilled, be surrounded by people I care about to share it with, and be healthy to be able to do things I love to do."
Agata Drywa
follow me on Instagram -
agatadrywa