Design Genius Feature: Eva Cammarata
It was such a bitter sweet "Hello and Goodbye" for this Italian designer. Eva may be the soft-spoken eco-fashion activist contender in the show but there's more to this "Queen the Knitwear" than meets the eye.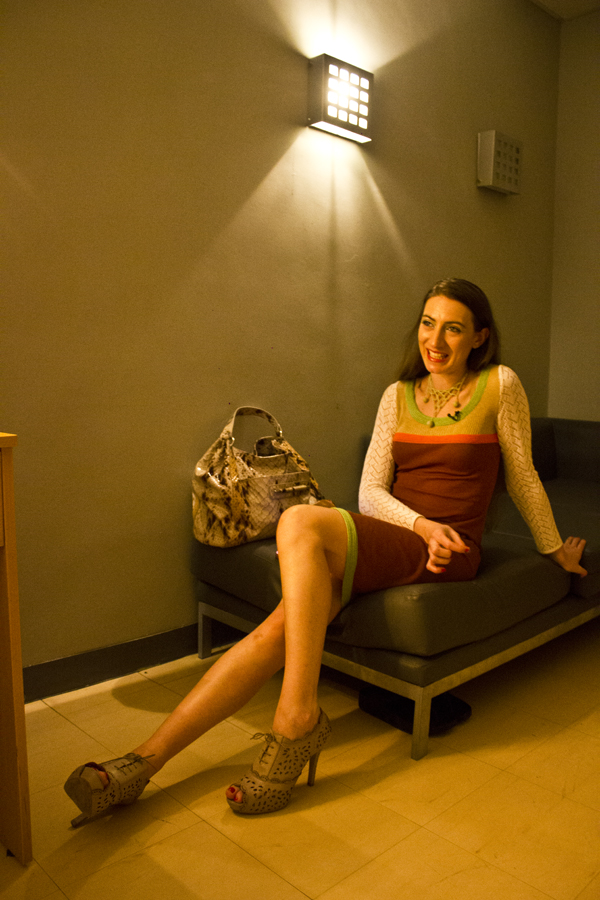 1. Tell us something about yourself. How did you become a fashion designer?
I really can tell I was born with fashion genes; since I was able to hold a pencil I designed clothes, a passion passed to me from my mum; she has always been a stylish beautiful woman and I remember her designing interiors and me portraying her wearing stylish `80's outfits. I studied fashion from high school; following with university, post graduate courses and masters. I'm practically studying fashion from over 15 years, in fact, I'm currently attending another master at the Istituto Marangoni in London. I funded my label three years ago but I work in the field from very long time and I'm proud to have worked with high-end ateliers such as John Richmond and Giles Deacon but also smaller ethical brands. On the funky side I had the pleasure to work as Costumist for theaters and Stylist for music and films. I practically breathe fashion!
2. Who's your favorite designer? Who is your style icon(s) and why?
Considering the multitude of artists designing fashion is difficult to name a favorite, moreover I tend to forget if I like the designer when looking at one of his collections, the focus should be on what's genius and what's less exceptional, on his work not on his persona!
My style icon is a woman that can embrace the unconventional femininity, fun side of fashion; ideally she would be a mash up between Kristen Stewart and Janice Joplin....
3. What's your design aesthetic or design style? How would you define your style?
My signature is a deep love for colors, that's definitely evident in all my lines, even the bridals… my focus is defining a new femininity every time I design a piece, exalting the silhouette but still experimenting new unexpected cuts. Eva Cammarata Atelier philosophy is to offer an ethical luxurious experience to each customer, looking beautiful and feeling even better!
4. Tell us about your design process. How do you come up with your designs?
I tend to spend quite a long time in research, I leave in a very inspiring city and is easy to be bombarded from great ideas, when building a story board is essential to concentrate the information in a relevant way and fantasy is very easy to get distracted; actually in my design process I often have to simplify the initial idea, especially if I'm not designing couture I keep creativity realistic and wearable. I can get inspired by anything from a philosophic concept to a smile, but is the transformation in the final piece, the quality of the materials, the techniques and detailing that make a collection successful one.
5. Before coming to the show, what's the weirdest or most unconventional material you have worked with to design a garment or an art piece?
I only use organic, natural materials and the one that could come across as weird is a yarn I use for my summer knitwear collections.
This is a blend of milk protein (casein) and wood extract, is man-made in labs and has a moisturizing effect so that while wearing your favorite dress you get a body treatment that never fades even after a billion washes.
6. What's your favorite challenge / piece of design on the show?
The best outfit for me was a messy ensemble of falling off pieces of tape and paper made from Sandro.
7. If you were the winner of Design Genius, what will you do with the $25,000 prize?
I think I would have been so wavered between buying new machinery or investing in marketing and promotion campaigns.. Probably a little bit of everything =))
8. What's the biggest, most important lesson you've learned throughout the competition?
ehm.. Difficult question, many little things actually, apart from time management the biggest one is winning the fear of cameras.
I still shake but now I get pictured with my designs and even walk the finale after shows... it's been a great shock treatment to be filmed when you would have less desired to be seen, stressed and crazy!
9. What does fashion mean to you? And do you have any other passions besides fashion?
Fashion means to me being at work on a saturday night (one of the many..) and being happy, even if time for passions and relax is reduced to a far memory, life is still beautiful as is made of many colored dreams becoming alive every season.....& shoes - shoes - shoes !!
10. Is there anything you'd like to share with us about any upcoming project(s)?
Oh yes !! I just collaborated with Swarovsky for my F/W '13 prét-a-porter launch, catalogue and video available on request! And coming very soon my new web site, still work in progress but great fashionable surprises to come... you will be able to sew or knit your very own piece, but hey! Give me a little more time ;)
About Eva:
Eva Cammarata was born in Sicily in the 1983 from a very stylish mother, the muse of her drawings since the early years; her love for fashion became soon a strong passion when only 14 she enrolled at the Institute of Art specializing in Fashion Design & History of Costume.
Her fresh ideas and technical skills had already given Eva the opportunity to take on important commissions, such as creating the stage costumes for the punk band Shandon in occasion of the Italian MTV Awards, 2000.
Eva Cammarata continued to develop her skills studying to achieve a BA in Fashion Design & Technology while working already in the atelier of couture and knitwear fashion houses.
The designer graduate collection, Arke`, was a great success in Sicily and was featured in several local press articles. Especially thanks to the reportage published by the Zoe Magazine, the collection was selected to showcase during the graduate off-schedule show, Paris Fashion Week, 2005.
Receiving a great publicity also from the French press, in particular from "Le Journal de textile", Eva Cammarata decided to move abroad in order to refine her skills choosing London for the inspiring multicultural environment that distinguishes this cosmopolitan city. Here she attended several postgraduate courses and gained a master degree in digital design and knitwear technology at the London College of Fashion.
Following Eva's graduate collection and digital work, showcased at the Mall Gallery, London, the designer started to work as an intern for Giles Deacon and after freelancing for the ethical knitwear brands I love Lowie and Ekta, the designer finally launched her own brand.
Since the debut of the label, presented for the first time at Pure London, Designer Premium Showcase, Olympia (13-15 February 2011), Eva Cammarata Atelier has been showcasing in occasion of several fashion events mainly in London and New York.
Recently the Label introduced a Wedding line launched during the Fashions Finest Renaissance on September 2012. Eva Cammarata next goal is to improve the e-commerce platform (www.evacammarata.com) with new features and "treats" for her customers including a menswear line to be launched by the 2013.