L'Oreal Paris Women of Worth Honors 10 Inspiring Women
L'Oreal Paris today unveils the 2013 Women of Worth honorees, celebrating 10 women who are pursuing their passions to accomplish the extraordinary. Bound by a deep sense of purpose and appetite for change, this group of women will join the community of 70 esteemed Women of Worth honorees from the past eight years. Tackling society's most pressing issues, from helping victims in the wake of the Sandy Hook Elementary tragedy, to enabling terminally ill seniors accomplish their bucket lists, to building a nonprofit restaurant that helps at-risk youth learn life skills, the 2013 Women of Worth honorees are united in their quest to fuel the future.
With causes that align with issues close to the hearts of women today, each Women of Worth honoree's story is poignant and inspirational. Now through Nov. 20, L'Oreal Paris invites everyone nationwide to vote for their favorite Woman of Worth. Votes drive awareness for these important causes and help select one National Honoree to be awarded an additional $25,000 for her cause. Cast your vote daily through:
•
WomenofWorth.com
by using your email address to log-on and casting your vote
• L'Oreal Paris'
Facebook
by clicking "Like" on the post and photo about your favorite Woman of Worth
• L'Oreal Paris'
Twitter
by re-tweeting the tweet about the Woman of Worth you support
"Society's focus on women leadership and female empowerment has reached a fever pitch, and the L'Oreal Paris family is proud to amplify this dialogue as we celebrate this year's incredible Women of Worth honorees, who have worked so hard and sacrificed so much to serve others and accelerate change in their communities," said L'Oreal Paris President, Karen T. Fondu. "With passionate vision and ambition, these women are truly emblematic of our brand heritage and philosophy, 'Because You're Worth It,' and we are honored to share their stories as they inspire us all to make a beautiful difference."
HONOREES
Setting the bar for extraordinary philanthropic efforts, this year's honorees support a variety of admirable causes, from technology and education to aiding at-risk youth, and everything in between.
•
Somy Ali
– Miami Beach, Fla.; President of
No More Tears
, nonprofit organization devoted to rescuing victims of domestic violence and helping survivors with assistance to meet basic needs, and a variety of support services to find jobs and complete their empowerment.
•
Tricia Baker
– Plainsboro, N.J.; Co-Founder and Co-Director of
Attitudes in Reverse
, a nonprofit organization to educate society about mental health and combat negative perceptions about mental illness by promoting acceptance and fostering awareness about depression and suicide prevention.
•
Patty Boles
– Vista, Calif.; Executive Director of
Straight From The Heart, Inc.
, a nonprofit resource center that provides critical support, mentoring, must-have items and resources for foster children and their caregivers.
•
Lauren Book
– Aventura, Fla.; Founder and CEO of
Lauren's Kids
, nonprofit organization dedicated to preventing sexual abuse through public awareness, education and political advocacy, and to help survivors heal by offering guidance and support.
•
Maria D'Angelo
– Santa Monica, Calif.; Founder, President and CEO of
The Children's Lifesaving Foundation
, nonprofit dedicated to serving and transforming the lives of homeless and at-risk children and families in Los Angeles through academic, social and domestic support.
•
Kimberly Iverson
– Scottsdale, Ariz.; Founder of
Bucket List Foundation
, nonprofit which grants end-of-life or "bucket list" wishes to the terminally ill, including swimming with dolphins, riding in helicopters and meeting pro athletes, as well as arranging simple, heartfelt events like anniversary dinners and reunions with family members.
•
Lori Lee
– Smithfield, N.C.; Founder of
Me Fine Foundation
, nonprofit founded in memory of her son Folden Lee, IV, which provides resources and financial assistance to families with children being treated at Duke and UNC Children's Hospitals regardless of race, diagnosis, religious affiliation or economic status.
•
Estella Pyfrom
– West Palm Beach, Fla.; CEO of
Estella's Brilliant Bus
, nonprofit fueled by a state-of-the-art mobile learning center and network of opportunities where children and families without home access to technology or internet can learn vital computer skills.
•
Kaitlin Roig-DeBellis
– Newtown, Conn.; Teacher and Founder of
Classes 4 Classes, Inc.
, nonprofit organization developed in the wake of the Sandy Hook Elementary tragedy whose mission is for every student in the U.S. to learn compassion, caring, kindness, empathy and consideration.
•
Susan Garcia Trieschmann
– Evanston, Ill; Executive Director of
Curt's Cafe
, nonprofit restaurant that provides training and support for at-risk youth while offering the community a place to "dine with a purpose," enjoying great food and giving back at the same time.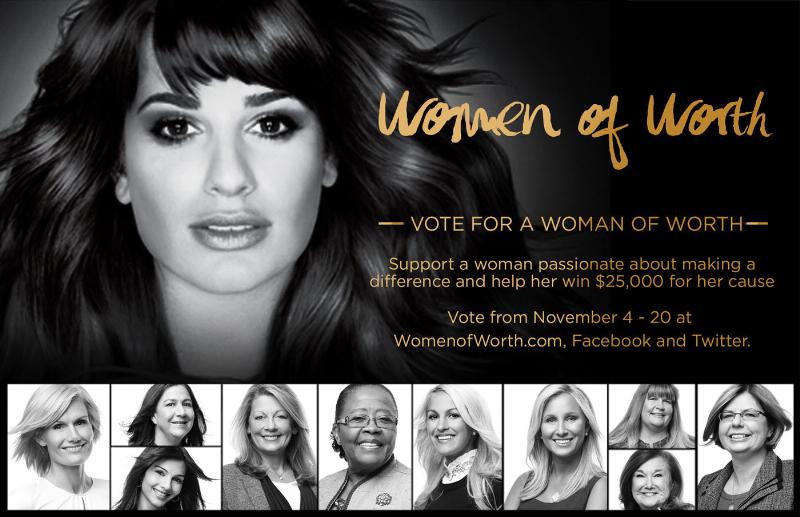 Credit: L'Oreal Paris