Baby-G Steps Up Style With Holiday Timepieces
Casio Baby-G is growing up this holiday season with a new collection of timepieces inspired by its analog and digitally-dynamite "big brother," G-SHOCK. Fashioned with G-SHOCK's hallmarks in toughness and durability, these watches will shock and delight wearers with a look of strength that is synonymous with Baby-G, but with a more sophisticated, edgier design to fit the lifestyles of the newest millennial tastemakers. These watches offer the perfect gift-able accessory for the holiday season.
Baby-G has fun, colorful watch offerings for every woman on your gift list!
This season, Baby-G is making a wrist wear statement with a three-fold debut of the BA110, BA111 and BA112 collections, which were designed to mirror G-SHOCK's most standout model – the XL GA110 line – in nine distinctly feminine colorways. The BA110 model(s) feature a lightweight, glossy resin band in four fashionable hues of black, white, platinum and matte translucent, casting a spotlight on the large watch face brushed in striking gold, rose-gold and silver metallics. The BA111 collection adds three high-intensity, monochromatic models in pure white, champagne and gold. Finally, the BA112 line showcases two jewel-toned gems in cobalt blue and magenta, complete with vibrant multi-colored dials.
Perfect for the multitasking mom, the trendsetting fashionista, the tech-savvy guru or any woman on your gift list, the timepieces are each equipped with a layered 3D metallic face, along with gear motif hands, which nod to the sophisticated styling cues of industrial design. Even in mirroring the aesthetic of G-SHOCK's GA110 model, the watch stays true to Baby-G's signature functionality and strength with a shock resistant, 100 meter water resistant structure, an LED backlight, 48-city world time, three multi-function alarms, 1/100thsecond stopwatch, countdown timer, and 12/24 hour time formats. This timepiece blends style and performance seamlessly, appealing to the on-trend types, function-over-fashion females, and those one in the same.
"This collection has been one of our most anticipated Baby-G launches and we expect our customers to embrace them this season," said Shigenori Itoh, Chairman & CEO ofCasio America. "G-SHOCK roll-outs have always been met with great reception, so taking that applauded design into our own product portfolio was an easy decision. The look is strong, but chic and fashion-forward at the same time – just like our Baby-G loyalist!"
The BA110, BA111 and BA112 model(s) are available at select Nordstrom, Bloomingdales and Macy's stores for an MSRP of $120. Please visit www.baby-g.com for more information.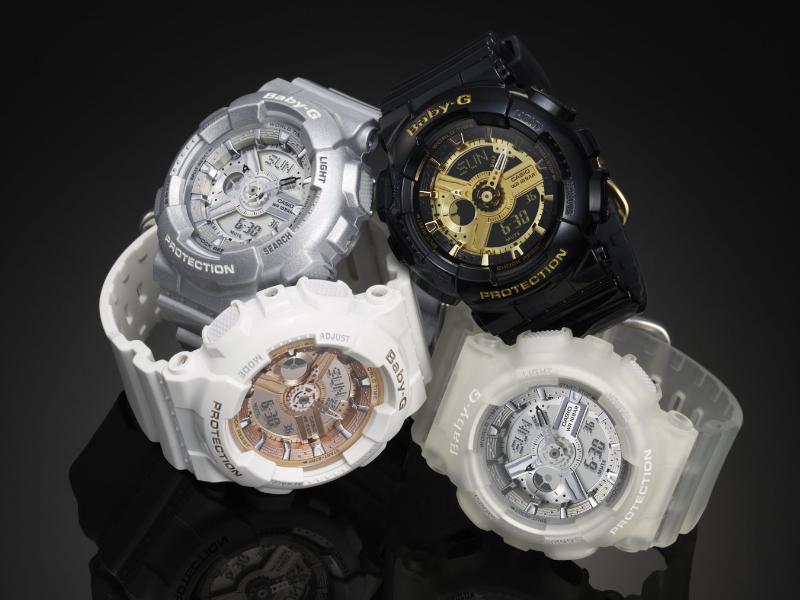 Credit: PR Newswire / Baby-G