Marchesa Designed Kylie Minogue's Tour Wardrobe
For her new Kiss me Once tour, which kicked off in Liverpool on Wednesday evening, pop superstar Kylie Minogue had her entire stage wardrobe designed by New York-based fashion house Marchesa.
The label's acclaimed chief designers, Georgina Chapman and Keren Craig, are known for their distinctive luxury gowns and rank celebrities from all over the globe among their customer base. Even Minogue herself has already been wearing Marchesa on the red carpet in the past. For this year's Met Gala in May the 46 year-old singer showed up in a flowing white Marchesa dress with leaf-shaped embellishments.
"When Kylie approached us to design her costume for her European tour, we jumped at the opportunity. Kylie is lovely to work with and we were thrilled to work with her again - this project was definitely a collaborative process. Kylie liked a gown that we designed for our spring/summer 2012 collection, and we used that as a starting point and began sketching a few options for her review," Chapman and Craig revealed in an interview with Vogue.
Although the design duo admitted that creating an elegant yet flexible stage look was much more of a challenge than designing red carpet gowns, the pop princess seems to be deeply satisfied with the collaboration. "I'm thrilled to be collaborating with Marchesa. They have created a stunning couture gown, which absolutely shines during a beautiful moment in the show. Working with the Marchesa team has been a lot of fun. Georgina and Keren are true delights," Minogue said.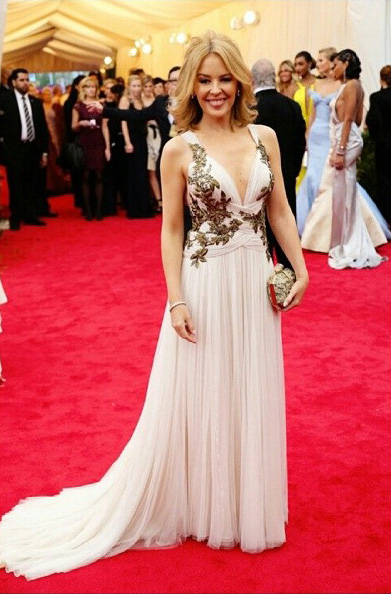 Credits: Instagram