Adam Levine and Behati Prinsloo Get All Naked and Bloody for "Animals" Video
Adam Levine
(35) – front man of
Maroon 5
– is not only the sexiest man alive, but also married to one of the sexiest women alive, Victoria's Secret Angel
Behati Prinsloo
(25). In July, the ridiculously good-looking couple tied the knot and it seems that they might be into some really kinky stuff. At least that's what they make us believe in Maroon 5's latest music video "Animals".
For the clip Levine slips into the role of a butcher, who is overly obsessed with Prinsloo. In a very creepy way.
As her stalker, he collects dozens of her photographs, follows her every step and sneaks into Prinsloo's apartment while she's asleep. The video also features scenes that show the blood-smeared Levine dancing among chunks of meat hanging from the ceiling.
As if that wasn't enough already, the song's lyrics add to the eerie atmosphere with lines like "baby, I'm preying on you tonight" and "hunt you down, eat you alive".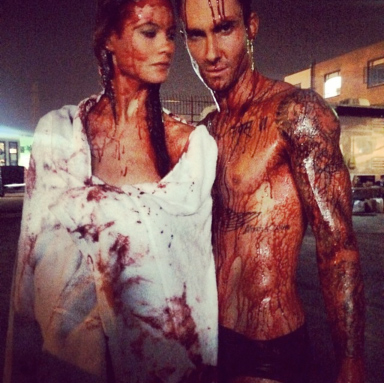 During the grand climax, Levine lies down next to the sleeping Prinsloo and fantasizes about having his way with the gorgeous model, which results in some pretty steamy sex scenes and the naked couple being showered with blood.
The raunchy video was directed by
Samuel Bayer
, who already worked together with Justin Timberlake, Green Day and Nirvana.