Cara Delevingne Designs Capsule Collection for DKNY
Over the past few months, there has hardly been a single moment when British supermodel Cara Delevingne was not the talking point.
Especially fashion house DKNY seems like it has a fancy for the 22-year-old blonde, having her appear in four of its campaigns over the past two years. But it didn't stop there. In June, Delevingne revealed that she is collaborating with the brand even as a designer, working on her own capsule collection.
Now Cara x DKNY has been revealed and as Delvingne is well-known for her laid-back yet sophisticated off-duty style, it was no surprise that the cheeky model's designs harmonize perfectly with the New York-based label's urban chic. The 15-piece collection features jumpsuits, crop tops, T-shirts, beanies and even bomber jackets. Prices for Delevingne's creations range from $70 to $375 USD.
"I first started to work with DKNY almost two years ago. They always encouraged my design input, my personal style and my ideas from the very beginning of our working relationship. Our creative synergy only grew with time and before you knew it we were exchanging ideas for a jumpsuit," Delevingne said. "It was an organic process and it made sense. DKNY is urban and edgy but most of all, it's individual! They truly embrace the weirdness in all of us, so you can really be yourself."
Cara x DKNY will be available from October 15 at DKNY stores, the DKNY online shop, Net-a-porter, stylebop.com and select department stores.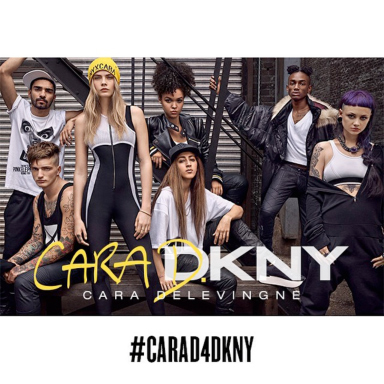 Credits: Instagram