Rihanna is the 'Only Girl' for Balmain's Olivier Rousteing
Is Rihanna the next Grace Kelly? Olivier Rousteing certainly thinks so. The creative director of Balmain told
The Telegraph
earlier this week, "[Rihanna] has this aura, this charisma. It's not only sexual. It's something else. She is like a new Grace Kelly, or a Madonna… This woman of the world who represents a new world."
At just 28 years old, Olivier Rousteing has cemented his place in the fashion industry by being one of the best creative directors Balmain has ever seen. Rousteing also has the best cheekbones that brand has ever seen, as far as creative directors go. In addition to being young, talented, and modelesque, Rousteing also boasts a tight knit circle of A-list celebrity and model friends. His posse is made up of all of the Kardashian-Jenners, Rosie Huntington Whiteley, and RiRi–– just to name a few.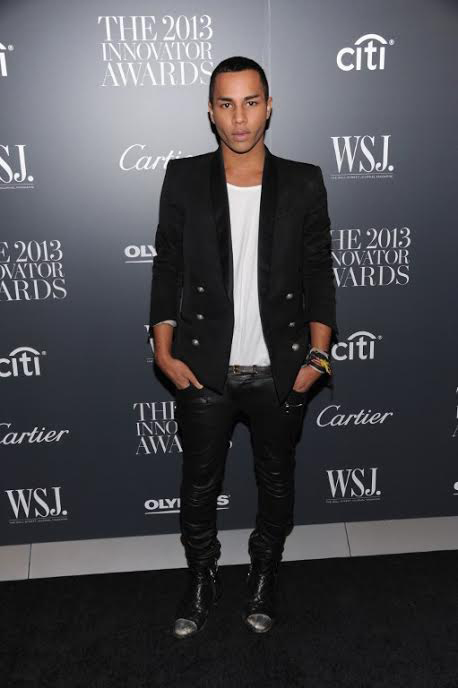 Olivier Rousteing in Balmain.
Rousteing clearly has an admiration for, and knowledge of, celebrity. In his interview with
The Telegraph
, Rousteing said, "Celebrity is more important today than it used to be," and cited social media as being one of the driving forces behind this phenomena.
Rousteing has become a celebrity in his own right and has been successful in creating his own online empire with 957,000 followers on his personal
Instagram
and 1.2 million followers on the official Balmain
Instagram
. With Kim Kardashian and Rihanna among his loyal friends and followers, this comes as no surprise.
Between curating headline worthy runway shows and getting coffee with the best of Hollywood, we're dying to know: does Olivier Rousteing have time for relationships? Rousteing told The Telegraph, "Do I have someone in my life?' No, I don't. Just work and Rihanna," but before you ladies start fighting over this eligible bachelor, Rousteing has no interest in women––that is, unless they're Rihanna.