MUST-SEE! Man Completely Transforms into Kim Kardashian
Kim Kardashian's looks have long been the source of envy and admiration, but this man takes it to the next level. Filipino actor and makeup artist Paolo Ballesteros shows us that we don't need to go to the plastic surgeon or head to the salon to cop Kim's look. All we need is a heavy arsenal of makeup, and maybe a wig or two.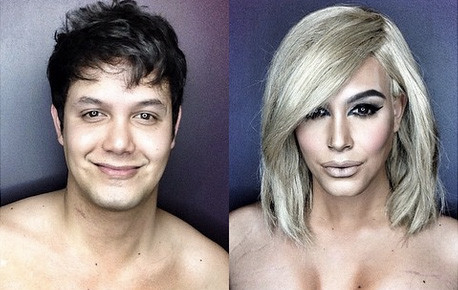 Image courtesy of Paolo Ballesteros via Instagram
The before and after results are astounding. The 32-year-old––who looks nothing like Mrs. West––transformed into an uncanny resemblance of the star that would give Madame Tussauds' wax figurines a run for their money.
Ballesteros has also recreated Kylie Jenner, Taylor Swift, and Dakota Johnson. While his makeup is admittedly a bit caricaturish, it just adds to the fun. With the exception of wigs, all of the looks were created with only makeup. No photoshop or knives here.
Though Ballesteros is clearly a pro, the makeup artist admitted to
Huffington Post
, "My nose is smaller and shorter [than most celebrities]. It took me a while to figure out how to do it. By drawing new nostrils, it made my nose more pointy or bigger."
So what's next for Ballesteros? The actor has confirmed that he will be starring in
Die Beautiful
, an indie comedy about a transgender man who wants to be buried looking like Lady Gaga. Our guess is that he'll also be in charge of the makeup.