North West Loves Frozen, Leaves Fashion Week in Style
North West has a busier social calendar than most budding socialites. Between following her mom everywhere, attending her dad's sold out concerts, and being front row at fashion week, we're surprised that the tiny tot has the energy to do anything at all. Baby North proved that she can do it all, however, when she walked out of the airport rolling her own suitcase.
The toddler/starlet was spotted outside of Charles de Gaulle airport after the last day of Paris Fashion Week with one hand on Kim's and another on her
Frozen
suitcase. The subsequent 'awws' were audible throughout the airport.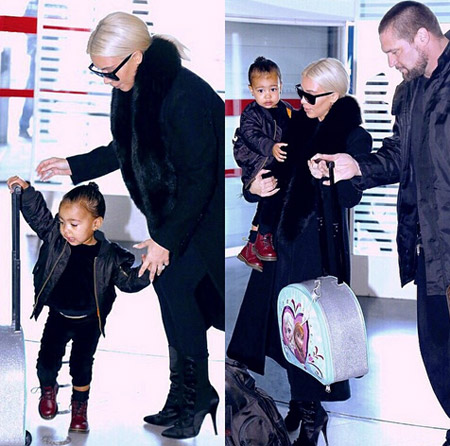 Nori reaches for her suitcase after her bodyguard picks it up for her. Photo via kimyeonly
Nori absolutely insisted on rolling her own suitcase, and despite her bodyguard trying to carry it for her, couldn't be swayed. Luckily for airport patrons, North didn't break out one of her
signature tantrums
.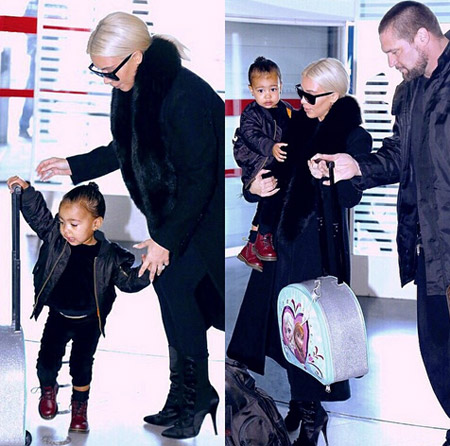 North is resolute. Photo via atlfashionweek
The 21-month-old was dressed in a black bomber jacket, black skinny jeans, and red Doc Martens––which admittedly clashed with her glittery
Frozen
suitcase. We're willing to excuse Nori, however, because she looked so darned cute.
Hot on the heels of Disney's official announcement of
Frozen 2
it's no surprise that the offspring of Kimye would have one of the hottest toddler accessories of the season.