Less Sex, More Politics: American Apparel Gets a Serious Makeover
American Apparel is known for its hipster clientele, softcore ads, and countless numbers of sexual harassment lawsuits. Despite the label's best efforts to combat pressing social issues like same-sex marriage and workplace inequality, all of the bad press has taken a toll on business.
American Apparel was first opened in 1989 and became popular for its sweatshop free garments produced in every hue imaginable. Basics to booty shorts, AA became a one stop shop for clothing for all. In recent years, however, the brand has suffered at the hand's of now former CEO Dov Charney. Charney has been accused of multiple counts of in-company sexual harassment and, after much deliberation, was fired from the company in December.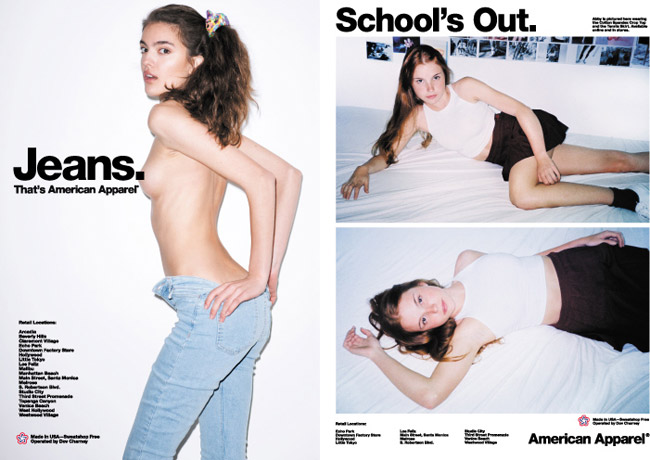 American Apparel then.
Now, Paula Schneider has come on board and is trying to give American Apparel a much needed makeover. Less sex, and more politics is Schneider's game and in just a few short weeks (six, to be exact) Schneider has proved herself to be capable of making this change. In an interview with
Marie Claire
, Schneider stressed, "[...] we have to get past the idea that it's just a clothing brand. It's not. Our customers expect social commentary; they expect it to be a part of their lives."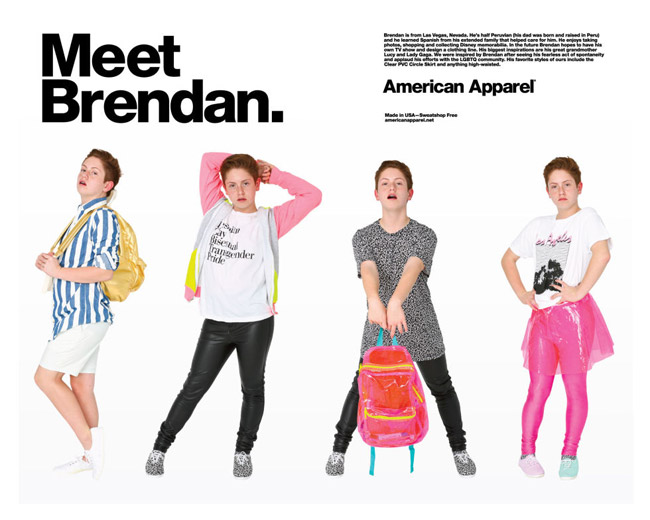 American Apparel now. Brendan Jordan, who came out at 15.
Schneider went on to say that the sexy, and often sexist, AA ads were outdated and part of the reason why the company was losing profitability. So what's her next course of action? Schneider is dedicated to bringing American Apparel to the forefront of ecommerce in addition to diversifying their advertisements. She said, "
In a new video
, we had transgender models, young models, models in their 70s, women who were eight feet tall—we aim to be inclusive. It's more a psychographic than a demographic that we look to."