Proenza Schouler's Fall-Winter Collection 2016 : Process, Form and Outcome
Proenza Schouler, a New York based womenswear and accessories brand, was founded in 2002 by Jack McCollough and Lazaro Hernandez. It was the birth of a dynamic and influential partnership between Jack McCollough and Lazaro Hernandez, who met as students at Parson¹s School of Design.
The duo launched Proenza Schouler's inaugural collection which was also their senior thesis and named the brand after their mothers' maiden names. Barney's New York was the first to bring in their entire inaugural collection.
McCollough and Hernandez presented their Fall-Winter 2016 collection at the new Whitney Museum of American Art, in the Meatpacking District, overlooking the Hudson River. They should be given a prize for choosing the most swanky neighbourhood in New York to showcase their Fall-Winter collection.
The Meatpacking District went through a huge transformation in the 1990s. High-end boutiques catering to young professionals were opened, and the brands included Diane von Fürstenberg, Christian Louboutin, Alexander McQueen, Stella McCartney,Barbour, Rubin & Chapelle, Theory, Ed Hardy, Puma, Moschino, ADAM by Adam Lippes and also an Apple Store. By 2004, the Meatpacking District became New York's most fashionable and trendy neighbourhood.
During an interview with the two creative nerves of the extremely highpowered brand, McCollough and Hernandez related that for their Fall-Winter collection, they were more concerned with process, form and outcome, referencing to the Americanart of the 1960sand 1970s, comprising of the works of Robert Ryman, Richard Serra,Robert Smithson and Frank Stella. These concepts were incorporated into the creation of their Fall-Winter 2016 collection.
This time around, the collection delved into the notion of control and release, motivating McCollough and Hernandez to use more knitwear which conforms snugly to the body shape, yet stretchable, giving the styles more flexibility.
The designers concentrated their efforts on reconstruction whilst for their Spring-Summer collection, it was deconstruction. To the full extent of reconstruction, soft, full fabric was used and made fitted through lacing, wrapping and tying.
The designers endeavoured to construct a long, lean and tailored silhouette which comprised of long and desirable low slung voluminous trousers matched with sculpted, wasp-waisted jackets.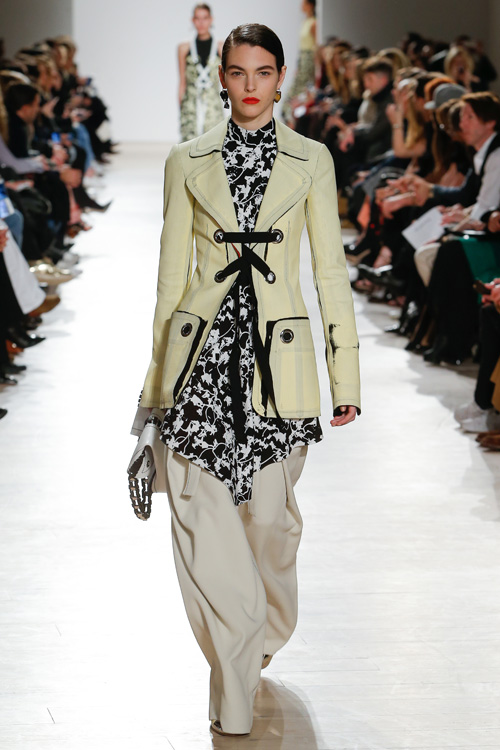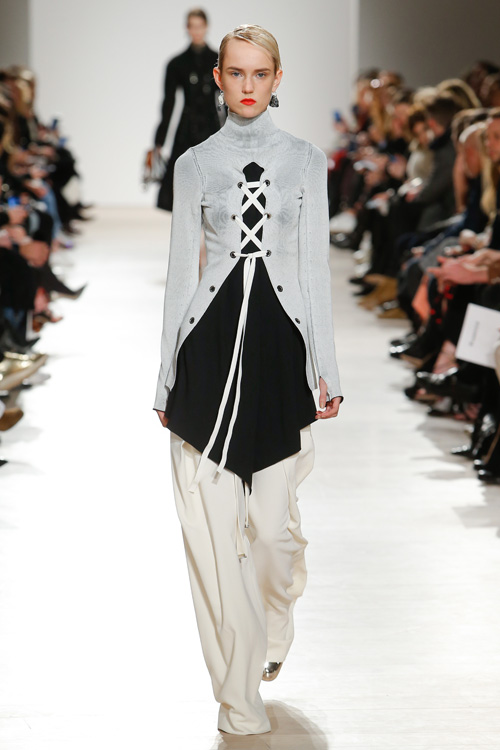 Dresses were long, fluid and flowy, exuding femininity. A striking pair of tube dresses were bisected horizontally and the matching top and bottom connected loosely by laces.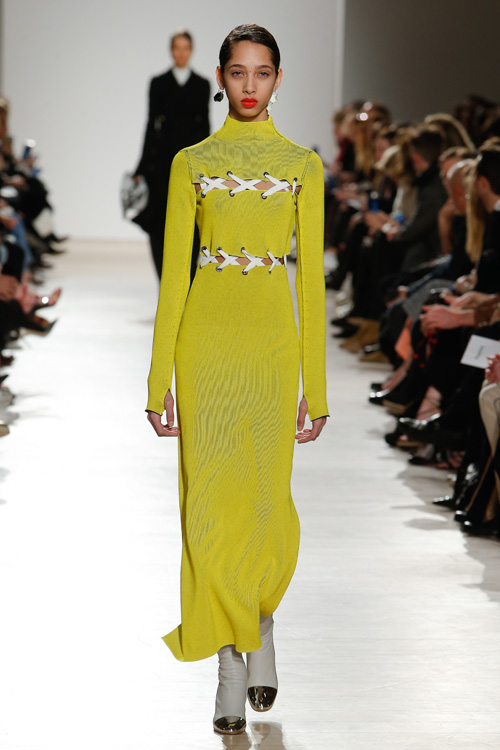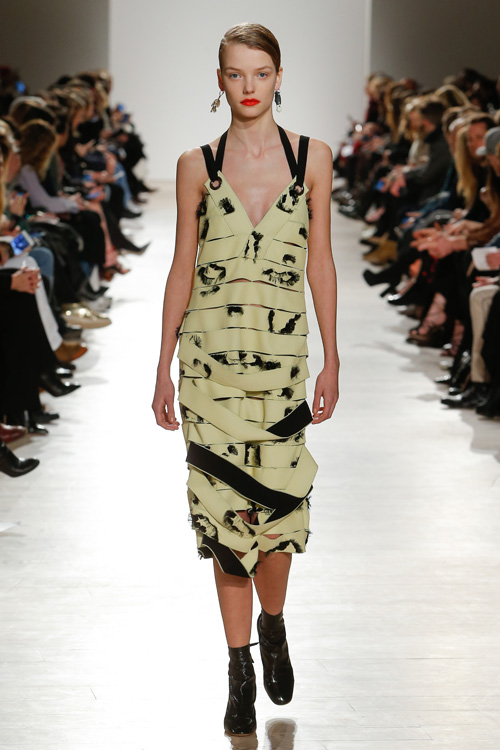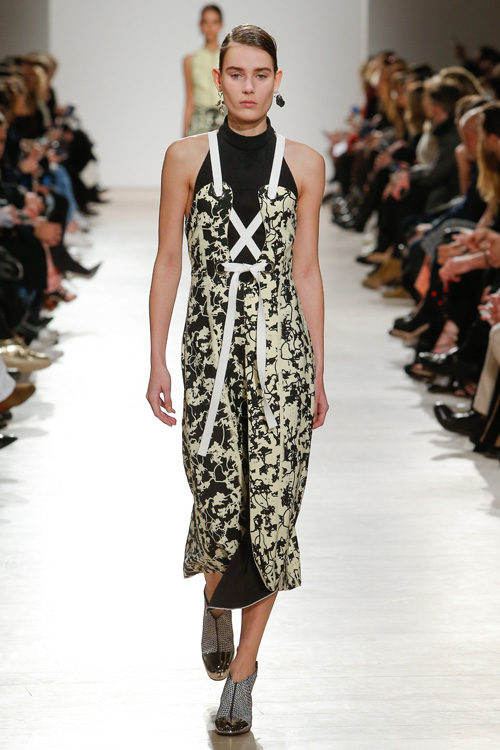 As for accessories, the Hava bag was reintroduced in whipstitched calf and showcased with two new bag styles namely the Hava top handle and the Hex bucket bag. Shoes were made low-heeled for the purpose of walking swiftlyand sanguinely.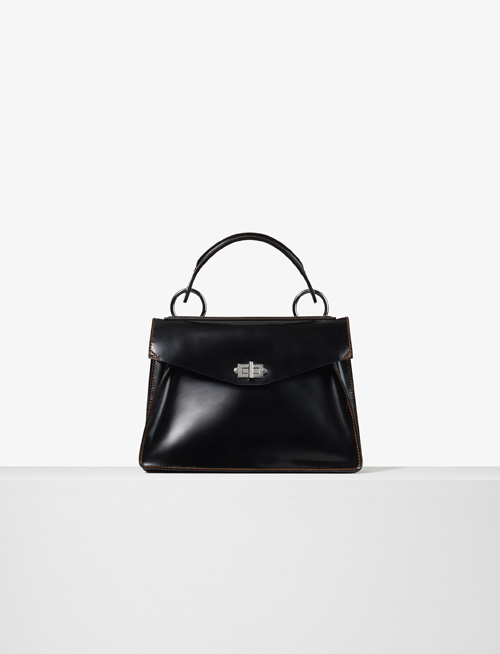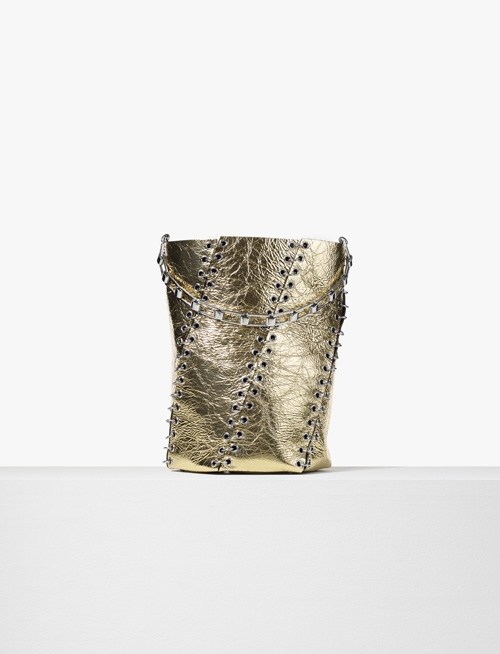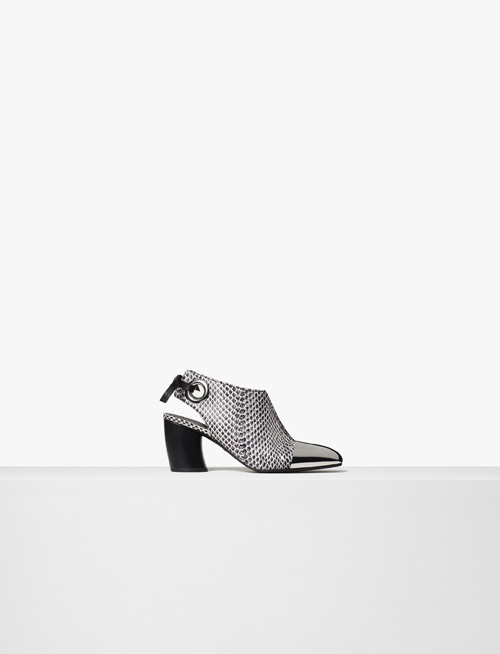 The Fall-Winter 2016 collection is now available at Proenza Shouler flagship store in Singapore, located exclusively The Shoppes at Marina Bay Sands, L1-17, Bay Level.
Pictures Courtesy of Club 21 Pte Ltd