OCTO, LVCEA AND SERPENTI: THE THREE PILLARS OF THE WATCHMAKING ART ACCORDING TO BVLGARI
For Bulgari, 2017 heralds the in-depth development of its flagship collections through several original and contemporary new variations. At Bulgari, celebrations are considered worthwhile only if they carry a promise of dreams and herald the future. The first new models presented in January express an intense desire for beauty and modernity. For the Rome-based Maison, watchmaking is a temple dedicated to worshipping a passion for beauty. OCTO, LVCEA and SERPENTI are three of its main pillars, once again accentuated by powerful reinterpretations.
OCTO FINISSIMO TOURBILLON SKELETON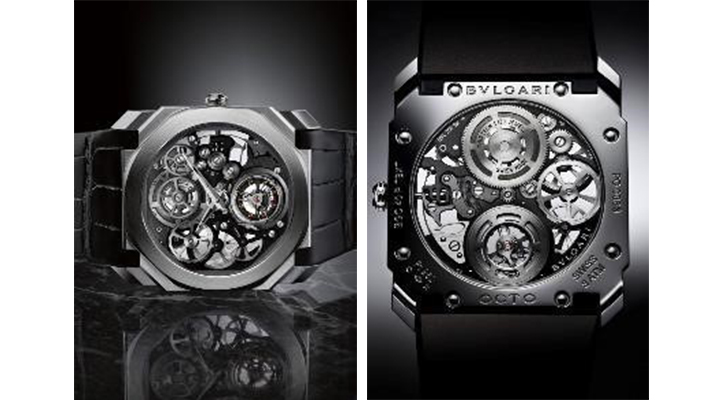 Taking one's time is an invitation to accomplish things with a greater sense of finesse. Pursuing its quest for beauty and elegance, the Bulgari watch Manufacture achieves a new feat with a skeletonised interpretation of its OCTO FINISSIMO TOURBILLON, the world's smallest watch of its kind.
The OCTO by Bulgari has been an avant-garde model ever since its launch. Its 110-facet case consistently astonishes and appeals to devotees of exceptional, standout watch models. One of the reasons behind this success lies in the perfectly balanced proportions. A fine example of Italian design, this timepiece is daring without being overly exuberant. Its dimensions bring a subtle and elegant blend of strength and presence to the wrist, as well as a sense of due measure.
Its most important sense of the latter naturally relates to time itself. The OCTO watch by Bulgari is an haute horlogerie creation that has once again pushed back one of the ultimate limits of the watchmaking art – that of thinness – with regard to one of the most delicate and coveted horological complications: the tourbillon.
Created to compensate for the effects of gravity on the running of a watch, the tourbillon mechanism is a pinnacle of the watchmaking art. Producing this tiny mobile carriage housing the balance-and-spring assembly and the escapement calls for a degree of expertise cultivated by a rare breed of exceptional artisans. Those of the Manufacture Bulgari excel in this domain, since their precious mechanical marvel – the Bulgari BVL 268
Finissimo
calibre – still holds the world slimness record for a tourbillon movement.
In 2017, Bulgari has decided to move to another level by offering devotees of beautiful watchmaking an exceptional OCTO watch with an entirely skeleton-worked tourbillon. The whole movement is now visible and the magic spell is woven even more powerfully through this contemporary elegance tinged with extreme technical sophistication.
The OCTO FINISSIMO TOURBILLON SKELETON watch is equipped with an entirely openworked ultra-thin 253-part flying tourbillon movement featuring 13 jewels and eight ball-bearing mechanisms serving to reduce the total movement thickness. Beating at a frequency of 21,600 vibrations per hour, it has a 62-hour power reserve. To ensure perfect efficiency and precision, its barrel spring is fitted with a slipping spring and the tourbillon carriage is mounted on an ultra-thin ball-bearing mechanism driven from the outside. This exceptional and exclusive movement houses a barrel held by three ball-bearing mechanisms: this innovation serves to double the height of the barrel spring and thus ensure an even 80% larger power reserve, a tour de force for such a slim tourbillon model.
To highlight this movement with the panache it deserves, the case of this new OCTO is made of platinum. The philosopher Immanuel Kant held that "
appearance demands refinement and art, whereas truth points to simplicity and tranquillity
." The new OCTO FINISSIMO TOURBILLON SKELETON would undoubtedly delight him.
OCTO ULTRANERO: THE IMPACT OF ABSOLUTE MODERNITY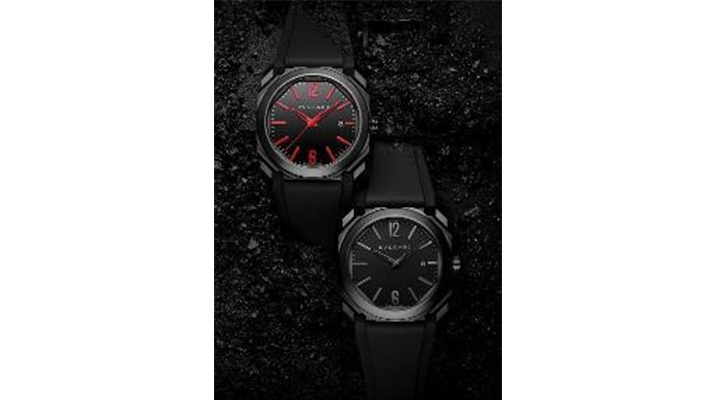 Modernity remains the watchword of the new intense black OCTO ULTRANERO models. Bulgari also provides its own precious reading of this contemporary masculine watch through two new interpretations of
Ultranero
, which continues to gain in strength and character as the years go by. In these new variations, the watch may be chosen either all-black or featuring red contrasts for its hands and hour-markers standing out against the jet-black background.
Thus clad in its elegant livery, the OCTO ULTRANERO flaunts its sheer strength. The powerfully structured case boasts a black D.L.C. (Diamond Like Carbon) treatment that adds a forceful and unmistakably Italian touch. It immediately conjures up various creations in the domain of architecture or contemporary furniture, even evoking stealth planes and thereby lending a hint of mystery and secrecy. All of which opens up a whole new field of expression for this watch that is equally at home in an atmosphere of urban elegance as it is in life's more sporting moments. OCTO ULTRANERO is a distinctive element of masculine style dedicated to modern men.
The OCTO case is an extension of the Italian temperament. It is complex yet it seems very simple. It is geometrical but not at all inflexible. It is elegant while always maintaining a certain relaxed aura that is the spice of life. This is because OCTO is a watch that was not designed for pure performance alone. In this respect, it safeguards all the virtues of the epicurean Italian approach to living and is intended for men looking to wear a watch that is both iconic and very much out of the ordinary.
TECHNICAL SPECIFICATIONS
OCTO FINISSIMO TOURBILLON SKELETON
Movement
Mechanical hand-winding
Finissimo
Skeleton flying tourbillon movement, sapphire baseplate, Calibre BVL 268, tourbillon carriage mounted on a ball-bearing mechanism, 253 components, 21,600 vph, 62-hour power reserve; 1.95mm thick; powering indications of the hours and minutes: Finishing: bevelled, circular satin-brushed and straight-grained baseplate and bridges; black Diamond Like Carbon (D.L.C.) coating, bevelled and circular satin-brushed gear wheels, three ball-bearing mechanisms for the barrel.
Case and dial
40mm-diameter platinum case, water-resistant to 30m; platinum crown with ceramic insert.
Strap
Black alligator leather strap with pin buckle.
OCTO ULTRANERO
Movement
Bidirectional mechanical self-winding movement, Calibre BVL 193 with twin barrels, driving indications of the hours, minutes and seconds, date window at 3 o'clock; Côtes de Genève motif, circular graining and chamfering; 50-hour power reserve.
Case and dial
Steel case with black Diamond Like Carbon (D.L.C.) treatment, 41mm in diameter, transparent caseback, D.L.C.-treated screw-lock crown with ceramic insert; water-resistant to 100m; black lacquered and polished dial, black or red facetted skeleton hands, black or red hour-markers.
Strap
Integrated rubber strap with D.L.C. -treated steel pin buckle.
LVCEA MOON PHASES
WOMEN IN THE SPOTLIGHT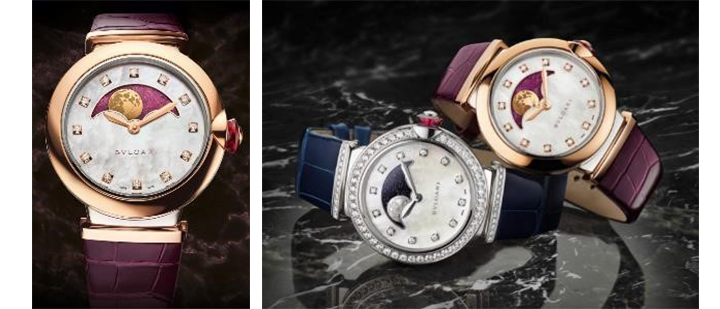 Women are more than ever the centre of the Bulgari universe in 2017, as the newly evolved versions of the emblematic SERPENTI are joined by stellar new feminine watches, the LVCEA Moon Phases.
Light meets the moon. Bulgari cultivates a keen sense of paradox in delightful and subtle ways. The Roman jeweller loves playing with contrasts and is ramping up the seduction of its glowing LVCEA this year by enriching it with moon-phase indications. This horological complication that has been highly appreciated since the 18th century calls for great precision when it comes to calculating the lunar cycles and marking the new moon, first quarter, full moon and last quarter. This technical accuracy is matched by finely mastered poetic interpretations of the face of this heavenly body.
Bulgari has ably risen to this two-fold challenge. On the one hand, by reinterpreting for its LVCEA watch both the calculation and the indication of the length of a synodic revolution of the moon – meaning the time that elapses between two of its returns to the same position in relation to the Sun and the Earth, amounting to exactly 29 days, 12 hours, 44 minutes and 2.8 seconds. But also and above all by providing an aperture shaped like the arc of a circle in the upper part of the mother-of-pearl dial on this luminous round watch, while preserving its perfectly balanced shapes and its diamond-set hour-markers that are greatly appreciated by elegant women. Even though LVCEA retains its pure beauty, this detail lends an additional touch of complexity to the dial which draws upon a horological complication in order to emphasise the romantic nature of this model.
In a delicate and subtle manner, the sky against which the moon appears takes on a shade matching that of the alligator leather strap: intense blue, bright red or glowing plum purple, depending on the model. Three options representing a wealth of temptations, with a mother-of-pearl dial punctuated by brilliant-cut diamond hour-markers; an even more sophisticated interpretation featuring its strap lug and bezel set with brilliant-cut diamonds; or a white gold version graced by a bezel set with brilliant-cut diamonds like the strap lugs. The overall impression is one of seamless osmosis, a love match between the 'light' watch and the 'night star'. This homogenous effect makes the LVCEA Moon Phases supremely easy to wear in any circumstance of a woman's daily life, whether by day or night.
LVCEA IN GOLD AND STEEL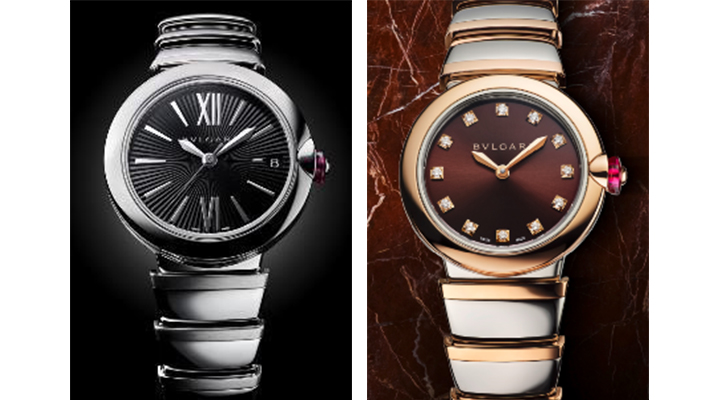 Since Bulgari is determined to fly discerning women to the moon this year, the family of LVCEA watches also welcomes several new models in a choice of 28 mm and 33 mm diameters, designed to meet each individual expectation and taste.
With its bracelet graced by smoothly articulated links evoking reversed snake scales and a colourful cabochon, the LVCEA watch fully asserts its identity. It is a gem of a timepiece created by the Roman jewellery world - renowned for its boldness in associating colourful stones and for the perfection of its gemsetting techniques.
These variations now appear in the shining radiance of steel, illuminating both the case and the bracelet with its distinctive links; as well as in a two-tone gold and steel version entirely in tune with the times. On the latter, the case is in pink gold and the bracelet links alternate between pink gold and steel, thereby giving a pleasing rhythm to the watch together with a dressy and precious appearance that exercises a strong aesthetic appeal. The new dial colours, ranging from dark to amber-tinged, also play on the palette of contrasts to spark new light effects at the very heart of this modern-day sundial.
TECHNICAL SPECIFICATIONS
LVCEA MOON PHASES
Movement
Bidirectional mechanical self-winding movement, Calibre BVL 191 Solotempo driving a moon-phase display as well as indications of the hours, minutes and seconds; Côtes de Genève motif, bevelling and snailing; 42-hour power reserve.
Case, dial and strap
Case in 18kt pink or white gold set with 45 brilliant-cut diamonds on the bezel (~1.45 cts); or in 18kt pink gold and steel, 36mm in diameter; crown set with a diamond cabochon; dial featuring mother-of-pearl as well as a hard ruby or aventurine glass disc for the lunar cycles; water-resistant to 50m.
Purple, blue or red glossy alligator leather strap with pin buckle in 18kt pink or white gold.
LVCEA ANIMATIONS
Case, dial and bracelet
Case and bracelet in steel or in steel/18kt pink gold, 28 or 33 diameter, bracelet fitted with triple-blade folding clasp; polished black dial with hour-markers, or polished chestnut brown with brilliant-cut diamond hour-markers; water-resistant to 50m.
Movement
Quartz movement, Calibre B046 customised for Bulgari for the 28mm version, driving indications of the hours, minutes and date; mechanical self-winding Calibre B77 for the 33mm version, driving indications of the hours, minutes, seconds and date, 42-hour power reserve.
SERPENTI SPIGA
PLAYING THE 'BLACK CARD' FOR AN ON-TREND SERPENTI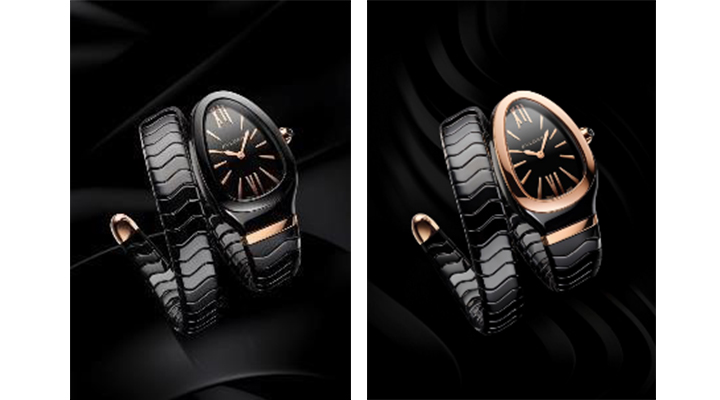 Bulgari is a Maison that is more than 130 years young.... Its maturity enables it to take full aesthetic responsibility, while its youthful attitude gives it the boldness required this year for example in adopting a new and highly contemporary take on one of its emblematic models: SERPENTI.
Both timepiece and jewellery creation at once, the SERPENTI is a firm favourite among elegant and decisive women. It comes as no surprise that this precious reptile should have won over Elizabeth Taylor in the 1950s, along with many other women of character since then. The Roman jeweller now takes a whole new look at this fabled model.
The sensuality of black clings to the horological serpent in two versions: one with an all-black bezel, and the other with a pink gold bezel. However, the other surprise stems from the fact that this Spiga is free of any gemsetting. Today's active and urban, daring and modern woman may expect other things from her jewellery watch. Gracefully wrapped around the wrist, the SERPENTI SPIGA watch in black ceramic proclaims its difference from noon to midnight – in any moment or situation. It does so with a constant and almost impertinent blend of compelling beauty and casual charm, fascinating allure and undeniable sensuality.
Subtly combining the voluptuous on-trend feel of the high-tech material with the extremely powerful identity of the reptile and its mythological origins, the SERPENTI SPIGA models proudly flaunt their stature as original and contemporary creations. The strength of the design rejuvenates and energises a quintessential precious timepiece.
SERPENTI TUBOGAS: CONSTANT REVOLUTION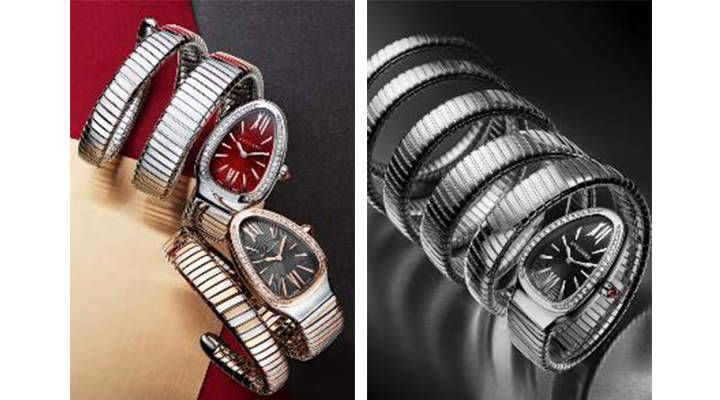 Roman jeweller Bulgari has sparked several revolutions within the relatively sedate world of watchmaking and jewellery with consistent boldness and elegance. The new SERPENTI TUBOGAS models are no exception to the rule. Playing with fashions in order to stay one step ahead of them, Bulgari's favourite reptile is once again reinvented to delight its female admirers. The latter have indeed not seen everything it has to offer, since one of the most celebrated and desired jewellery watches in the history of feminine watchmaking is back with a bang and ready to weave some enchanting new spells.
Like a snake charmer, Bulgari knows how to entrance the gaze. Beauty is a passion and celebrating it is a vocation. Bulgari is notably renowned for its innovations when it comes to gemsetting colourful stones or for having integrated a sensual and joyful femininity into its adornments. Techniques always go hand in hand with aesthetic sophistication and the astonishing
Tubogas
is one of the finest examples of this principle.
Born in the midst of the Art Deco period,
Tubogas
bracelets play in a highly contemporary manner with symbols of modernity in order to incorporate them into the art of living. An attitude that confirms the trailblazing nature of Bulgari. A form of boldness that can only be achieved through complete mastery of High Jewellery skills. To create this flexible bracelet featuring a suppleness inspired by the flexible exhaust pipes of sports cars or certain industrial tubing such as for gas, the jeweller needed to master an extremely distinctive form of metalwork. It involved coiling two long, thin and thin strips of metal with raised edges around a steel blade, in such a way that they interlock perfectly so as to ensure an impeccable hold and avoid any need for welding. The technique implies at least five metres of metal ribbon for a single bracelet. The result is indeed supple and elastic, while providing scope for a mirror polish that creates peerless brilliance. Right from their launch in 1932,
Tubogas
bracelets became a style factor whose powerful impact has remained as strong as ever. In 1962, photos of the film set for Cleopatra revealed that its leading actress Elizabeth Taylor wore a gold watch with a snake's head paved with diamonds and emeralds. In 1975, an advertising campaign featured bracelets with colourful enamel scales; and Diana Vreeland, the influential Chief Editor of the American magazine Vogue, took a shine to SERPENTI models by Bulgari, to the point of wearing the belt version as a choker coiled around her neck. "The snake is the on-trend motif in the jewellery world… One never tires of it", wrote this acknowledged arbiter of elegance and style.
In 2017, SERPENTI TUBOGAS is up to new tricks. The first relates to the material. The new interpretations treat themselves to a new reptilian skin in steel or in gold and steel, matched by new versions. The double-coil steel version features a new dial in a strong burgundy colour; while the steel and gold version – in both single and double-coil versions – is distinguished by an elegant slate grey dial. The biggest surprise among these new editions is of course the spectacular five-coil version.
This voluptuous quintuple wrap around the wrist makes this precious adornment that also tells the time an exceptional jewellery creation as well as an incredibly contemporary, unexpected and awesome trend statement. The steel five-coil version is recognisable by its super-chic black dial. The SERPENTI TUBOGAS is a decidedly fashion-forward timepiece.
TECHNICAL SPECIFICATIONS
SERPENTI SPIGA
Case, dial and bracele
t
Black ceramic bracelet, single-coil with 18kt pink gold inserts; black ceramic case or black ceramic case with 18kt pink gold bezel, black dials; water-resistant to 30m.
Movement
Quartz Calibre B033 customised for Bulgari.
SERPENTI TUBOGAS
Case, dial and bracelet
Single-coil or double-coil bracelet in steel and 18kt pink gold, case in steel and 18kt pink gold, grey dial; water-resistant to 30m. Double-coil steel bracelet, steel case, burgundy dial, water-resistant to 30m. Five-coil steel bracelet, steel case, black dial; water-resistant to 30m.
Movement
Quartz Calibre B033 customised for Bulgari.
SERPENTI SEDUTTORI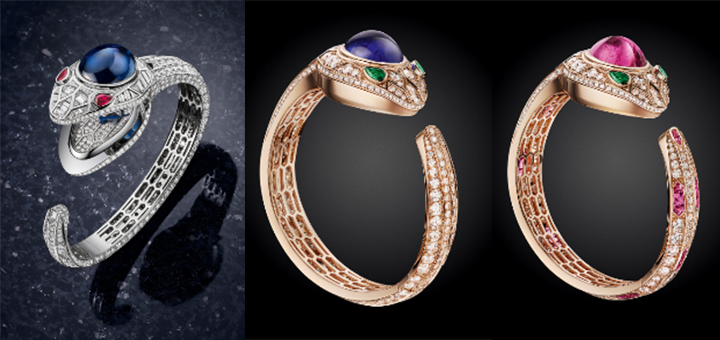 Case, dial and bracelet
High Jewellery bangle watch, 18kt white gold case set with baguette-cut and brilliant-cut diamonds, 1 cabochon-cut sapphire and 2 pear-shaped rubies; 18kt white gold dial and bracelet set with brilliant-cut diamonds.
High Jewellery bangle watch, 18kt rose gold curved case set with brilliant-cut diamonds, 1 cabochon cut tanzanite and 2 pear-shaped emeralds; 18kt white gold dial and bracelet set with brilliant-cut diamonds.
High Jewellery bangle watch, 18kt pink gold curved case set with brilliant-cut diamonds, 1 cabochon cut tourmaline and 2 pear-shaped emeralds; 18kt pink gold dial set with brilliant-cut diamonds; 18kt pink gold bracelet set with brilliant-cut diamonds and baguette-cut tourmalines.
Movement
Quartz Calibre B033 customised for Bulgari.
******

See more georgeous merchandise from BVLGARI at http://www.bulgari.com/en-jp/.