EXPRESSING YOURSELF: INTERVIEW WITH GREEK DESIGNER CHRISTOS ANASTASOPOULOS
Some people never really know what they want to be when they grow up; others are basically born knowing what they want to do or maybe are even groomed by a family legacy. Christos Anastasopoulos, born in Greece knew exactly how he wanted to express himself, through clothing as an art form. When you have a unique personality and lots of vision the question is how to share it with the rest of the world. Not just a participant in the Design Genius season four competition held in Antwerp, Christos is an artist, author and fashion designer who uses various artistic avenues to express himself and his vision.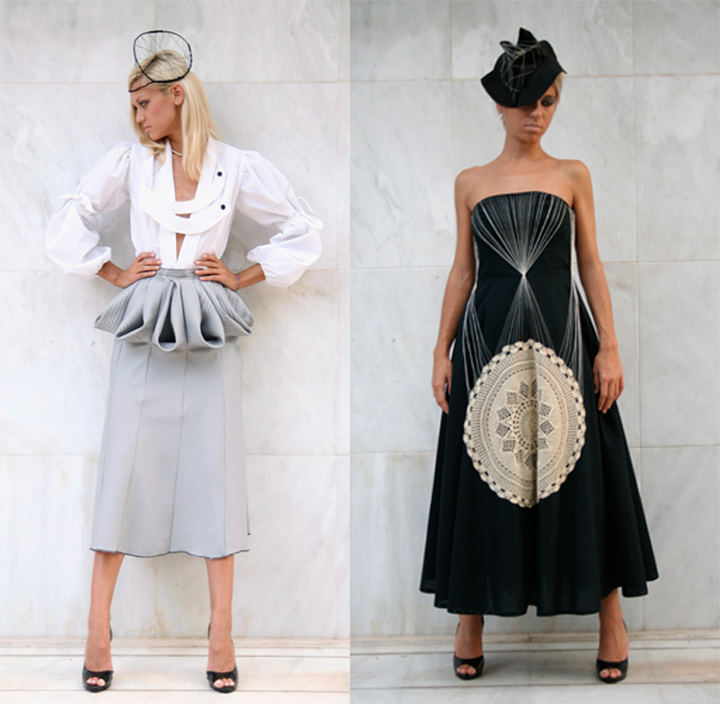 When did you know you wanted to become a fashion designer?
I have been asking myself the same question. I must have been around 7 years old when I started looking at clothes in a different way. It was then that I noticed I had a different relationship with clothes than other people or children. I loved to spend time searching through my parents' wardrobes and it was like magic to me when I watched a seamstress or a tailor working. Sometime, around the age of 15, I said to myself "Christos, you will become a fashion designer". My motive was to express all these ideas that I had in my mind and still have today.
What has your journey to become a fashion designer been like?
Even in the beginning, I worked as fashion designer, then, as a stylist for magazines, and TV programs. Meanwhile, I was making costumes for theatrical plays. I studied at a fashion design school in Greece. After that, I got a scholarship for a design school in London but I didn't finish my studies there because I was already working hard as a designer and didn't have the time to go to school as well.
How would you explain yourself as a designer?
I am very complicated as a person. It's hard to answer this question in a simple way. Sometimes I like minimalism. Simple shapes, clean cut lines but most of the time, I think theatrically and I enjoy making very complex designs and patterns.
What has inspired your design style?
Jean Paul Gaultier, Vivienne Westwood, Thierry Mugler, Issey Miyake, Yohji Yamamoto were some of my first inspirational mentors. Also, I love the elegant aesthetic from the 50's and the futurism of the 60's.
Is there anything you would change in your current design aesthetic?
No, there is nothing at all that I would change. You cannot add anything to perfection. Don't you think? After all these years as a designer, it is very difficult to change the way I work even if sometimes it is for the best.
What is your experience on Design Genius Antwerp like?
I am the kind of person who loves to collaborate. I think two minds are better than one and three better that two. It is great working together with the other people even if they are competitors because I get the opportunity to see different perspectives on design. The competitors from the USA work in a completely different way than the competitors from Europe. Different aesthetic, different influences, different measurements, everything is different and magical at the same time. I love them all and I have a great time with all of them.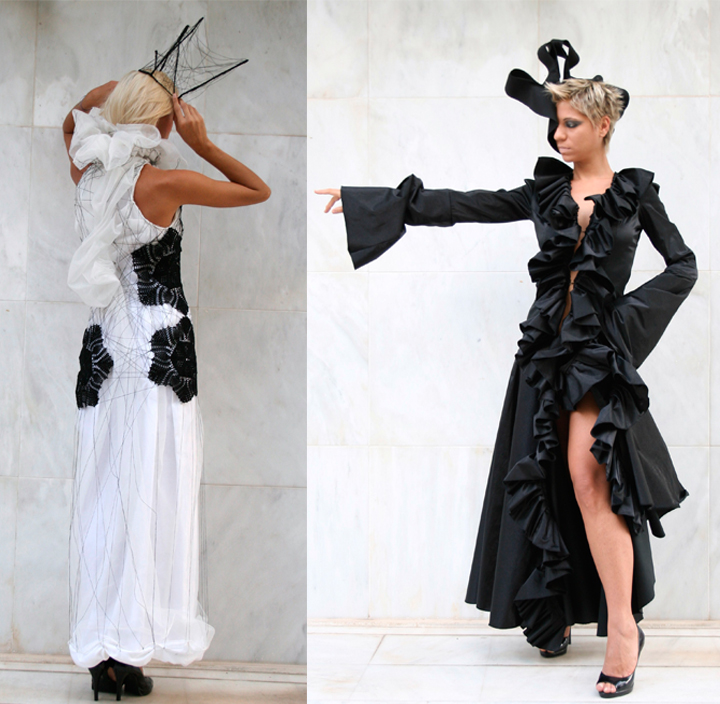 What are the biggest challenges in the competition?
Materials and time! I'm only partially joking. That really IS challenging but the most difficult aspect was ME! There is always something in my mind that challenges me. I think that I have something to prove to myself so I don't follow the easier path.
What valuable lessons have you learned through completing the tasks?
Everything from the beginning of each task until the end teaches me a valuable lesson: how to correctly manage time, how to work with unconventional materials and reminder to pay attention to small details. You cannot just glue or spray things on a garment AND you cannot please everyone. The pressure of time has forced me to make some mistakes or even misunderstand my partners. On the other hand, thinking outside of the box is easy for me.
What are your future plans as a designer?
I have made a new line of handmade bowties that are now being sold worldwide. I also design tailored suits, dresses and wedding dresses. I have no idea what I'll do next. I love working in my chaotic space and making garments that I like for people who really appreciate what I do. I love traveling! I get inspired by people and cultures when I travel and like to transform all of that into something fresh for the art of fashion designing. Whatever I do it will be a big surprise!
More of Christos Anastasopoulos as he demonstrates his design skills competing against the other up and coming designers in Design Genius Season 4: Antwerp. (
View schedule
)
To learn more about Design Genius, please visit www
.fashionone.com/designgenius
or post your comments on @fashionone #DGAntwerp #DesignGenius
Christos Anastasopoulos
http://anastasopouloschris.wixsite.com/creations
Instagram: @christoseanastasopoulos
Twitter: @christosanasta
Facebook:
https://www.facebook.com/ChristosAnastasopoulosOfficial/