Emma Stone Flashes Her Smile and Her Underwear at the Oscars
The 87th annual Academy Awards was an eventful night. Lady Gaga wowed the crowd with her spectacular rendition of
The Sound of Music
and
The Grand Budapest Hotel
took home some unexpected Oscars. The evening was also an evening full of wardrobe malfunctions, like
John Travolta's weird man collar
and
Behati Prinsloo's accidental nip slip
. The best wardrobe malfunction of the evening, however, happened right on the red carpet.
Emma Stone, who was nominated for Actress in a Supporting Role, landed on just about everyone's
best dressed list
for her chartreuse Elie Saab gown. The actress looked like a vision in the long-sleeved, beaded gown while the canary color perfectly complimented her complexion and hair. The dress had a sexy, thigh-high slit in the front which later proved to be the cause of her wardrobe malfunction.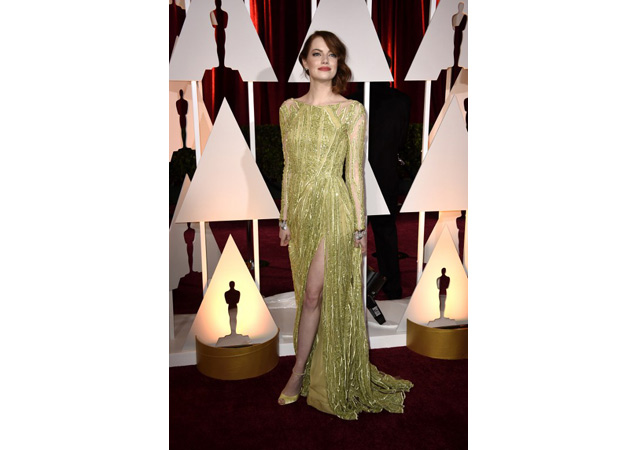 Emma Stone and the slit that didn't stop.
The star was being photographed as she was raising her train when the slit went a little too high and flashed her nude underwear. Needless to say, reporters had a field day and the image has since gone viral. Despite the barrage of paparazzi flashing their cameras at her nether regions, the actress remained calm and continued smiling for photographers.
See the flash
here
.