Through the Grapevine with Fashion Week Paris designer PATUNA
Patuna brings the best of French tradition center stage to Paris Haute Couture A/W 2016. This designer brand is for every woman. Whether she's a busy doctor visiting a gala or an aspiring artist who loves luxury, Patuna celebrates women from all walks of life. Inspired by the cherished French art of winemaking, this collection is rich with culture and and a heritage that is sure to quench your thirst for couture.
Read more about Patuna down below !
What was the inspiration behind your A/W 2016/2017 Collection?
When I thought of my inspiration for this collection, I thought of the greatness of French art, architecture and creativity, which influenced humankind to its very foundation. For nearly three thousand years, wine has been such an integral part of French civilization and is ingrained in French culture on every level. As art, creativity, and genius are woven into the fabric of what is France, naturally, the French made winemaking an art as well. From this natural flow of thought came my inspiration for the French art of winemaking. I was inspired by the grapevine and thus it became my muse.
When I touch the textiles used in the collection, for me it is like touching a grape or a grape-leaf. The grape is strong in texture, beautiful in color and soft in feel. French wine has volume, prestige, and variety in style throughout the variety of grapes. Volume, prestige, quality and variety are four inherent ingredients of my couture. The vineyard's beauty in uniformity and structure, the strength, natural character and flow of her vines, the deepness of her roots and the softness and color of her grapes cast against a blue sky inspire me.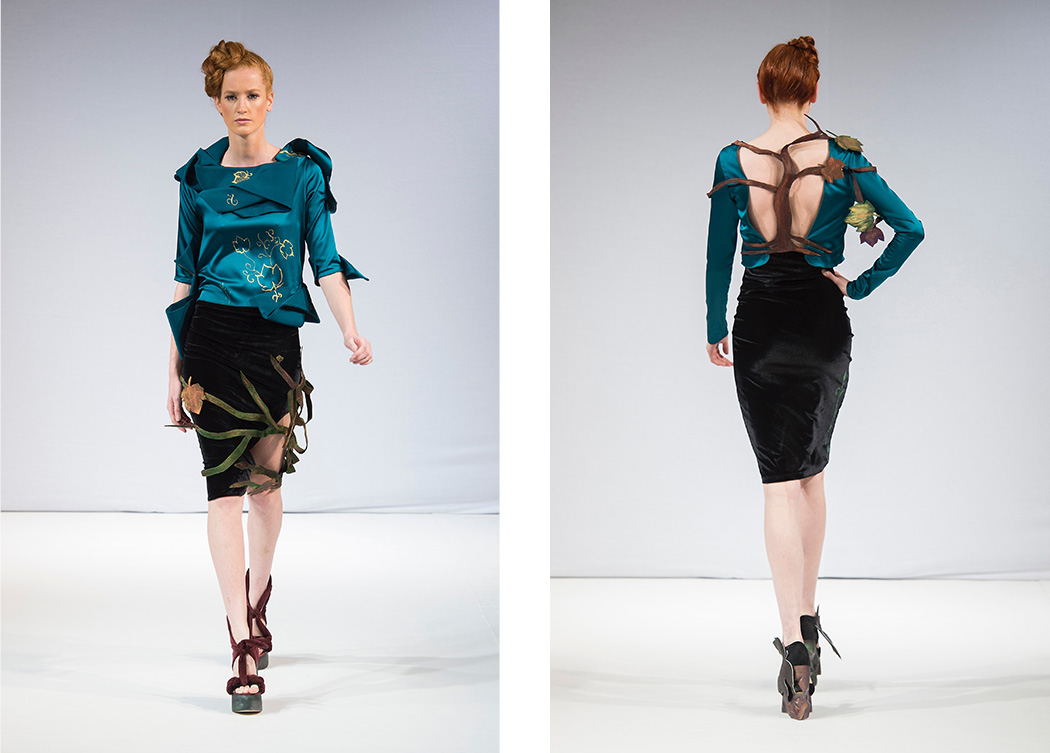 What was your favorite part about participating in Paris Haute Couture?
Paris is the center of fashion and the country of haute couture! Just walking in the city brings you so much energy and inspiration. In January, I will present for the 4th time during Paris Couture Fashion Week and each time it's a challenge!
Your collection brings to mind a sense of balance between edgy and elegance. Where do you imagine the Patuna woman going in your garments?
It does not matter where a lady goes because she is a lady everywhere - on the red carpet or in her personal private space where she can wear it for herself or for whom she wishes.
I absolutely love your use of ribbon-like layers and strips throughout the collection. What's the story behind this beautiful design theme?
As the collection's inspiration is French wine and vineyards, these accessories are the key components of the grape tree. A grapevine's natural character and flow are uninhibited, I do not use zippers or buttons as they can easily inhibit the natural character and flow of the fabric. Just as the grapevine of a French vineyard flows naturally and with volume through the field, my creations flow uninhibited with volume and style to fit naturally so as not to detract from the fabrics nature. The grapevine does not infringe upon the beauty of the grape but compliments that beauty.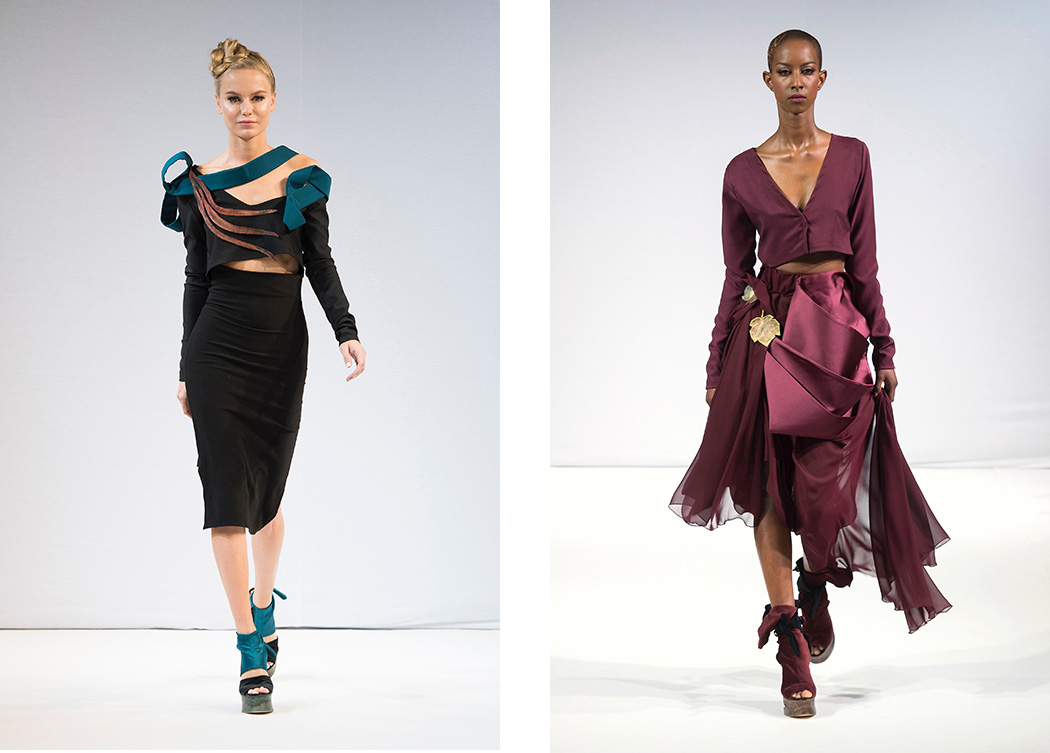 You have an amazing background – ballet, acting, dance, music, art and even medical studies! How do these amazing experiences influence your creativity or design process?
When I was a practicing dental surgeon, I was also coming home to paint. One may study dentistry and become a doctor. One may study dance or painting but creativity cannot be studied. It is something completely different that comes from the soul. The feeling and emotion of art often motivates my creativity and music helps to free it more that when I work.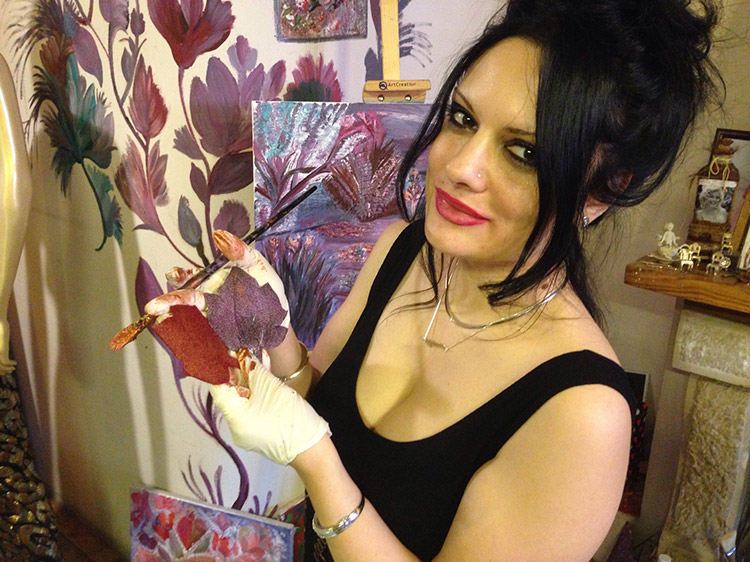 How would you describe your personal style?
I never dress casually, even when I go out in my daily life. My style is always mixed with some kind of couture element. Even when I wear jeans there will always be an element of couture, even if it's just my accessories. I don't often walk in the forest because I would have to change out of six-inch heels. I feel as if I am always on the stage of life.
Is there a certain celebrity that you would love to be the spokesmodel for your brand?
All women are celebrities to me and I always have always thought this way. If I really had to choose, it would be someone with the strong character of Angelina Jolie, the elegance of Charlize Theron and the grace of Marion Cotillard.
What's your favorite part about being a designer?
There are no limits to what you can do.
Who is the Patuna girl?
I refer to all of my creations affectionately as 'my girls'. The Patuna girl is most of all free, strong and happy! She has no borders or nationality. She is straight, gay, bi, and she has the need to express herself through art. She sees herself as a part of the universe. Someday I would like to make unisex couture. To answer your question more specifically, the Patuna girl is thoughtful, deep, elegant, strong and sexy as all women are.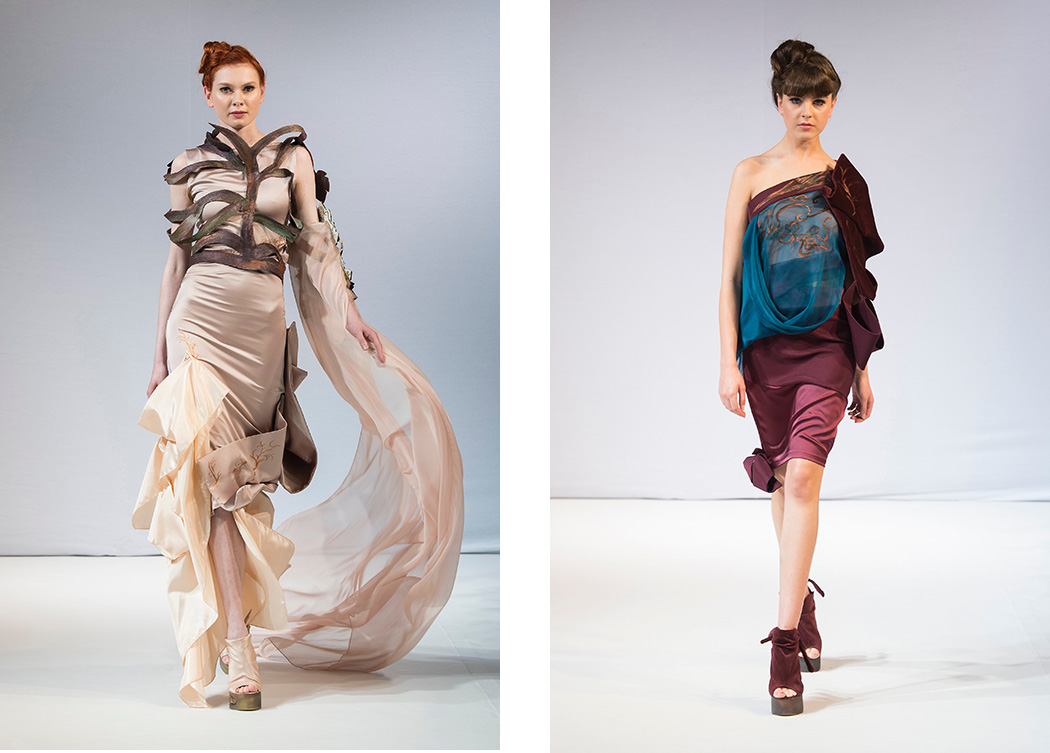 What are three words that would best describe your brand?
Free & powerful, sensitive & strong, glamorous & sexy.
Inside Fashion Week airs Monday, November 28th at 19 :00 (UTC+1) Paris.
See more of Patuna's work at
www.patunacouture.com